Events
FoodPackLab2 Final Event
Innovative solutions for Food Safety across the Value Chain!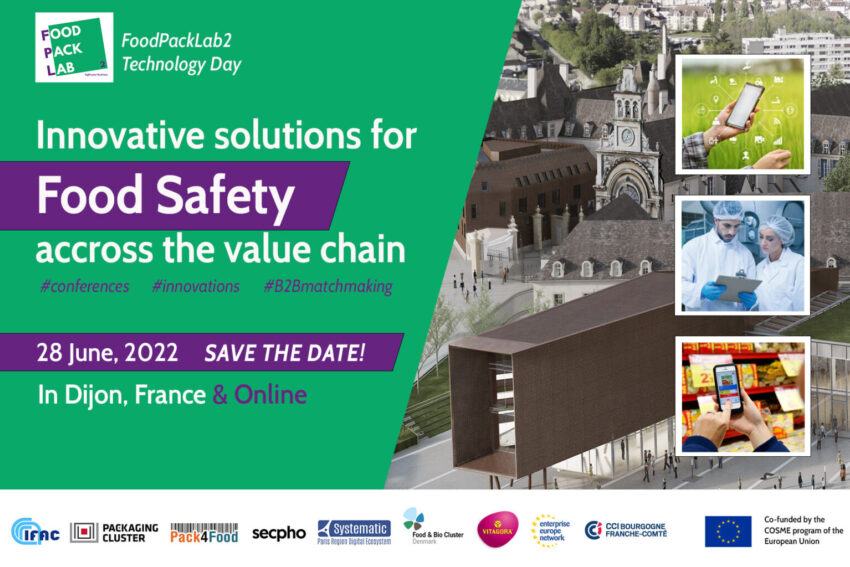 Program
9:00 - 9:20 CET: Opening speeches: European commission, EEN.
9:20 - 9:50 CET:
* Presentation of the project: Objectives, results, lessons learned and good practices.
* Services to support SMEs (EIC accelerator, COSME projects, fundings. Opportunities, financial tools for SMEs and innovation.
9:50 - 10:20 CET: Roundtable, prospectives: Future needs, opportunities in Europe and internationally.
Coffee break

10:30 -12:00 CET: Two challenges from food companies: SMEs pitches
Networking lunch buffet

14:00 - 17:00 CET: B2B Meetings (Matchmaking/face to face)
Location
Dijon, Bourgogne-Franche-Comté, FR and online
When
28 June 2022
ca 09:00 until 18:00
How
European SMEs specialized in foodtech, agritech, deeptech focusing on food processing, packaging, food security… are warmly invited to join us on 28 June 2022 in Dijon, France 🇫🇷

FoodPackLab will organize its final event in Dijon, France, on 28 June 2022 in collaboration with Enterprise Europe Network.

The event will be dedicated to "innovative for food safety across the value chain".

This meeting will gather the whole FoodPackLab team invested in the program as well as European SMEs specialized in foodtech, agritech, food processing and packaging.

The event will be divided in 4 different parts:

* Discussions and experiences shared on prospective and opportunities in food security in Europe and beyond (South Africa and India)

* Challenges in food security: collaborative workshops to discover new technologies and solutions to address agri-food industries challenges.

* Presentation of tolls and fundings opportunities to support SMEs innovation and internationalisation

* B2B meetings and matchmaking opportunities

To combine business with pleasure: gathering in Dijon is a great opportunity to enjoy the city, a gastronomic capital which is known to be the birthplace of Mustard and the starting point of the famous Burgundy wine roads.